Flare Elimination
For industries dealing with natural gases – such as oil extraction, biogas production, wastewater treatment, or landfill gas (LFG) production – flaring is often an unavoidable part of the process. This results in wasted energy and the release of large amounts of greenhouse gases, with traditional systems meant to minimize emissions being very expensive with large footprints.
ElectraTherm's simple and reliable ORC heat to power solutions can cost-effectively reduce these emissions while generating clean electricity. The best part? With the right system in place, that pesky flare can be extinguished for good.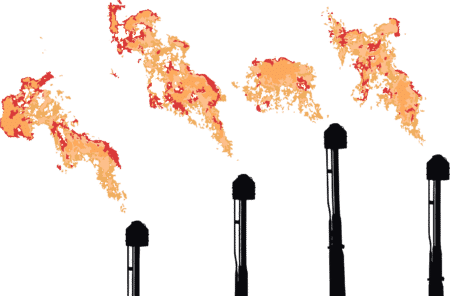 The Process
Boilers are extensively used alongside anaerobic digestors to provide power for the production of biogas.
Typically, these boilers only work for a small portion of the time, when the digestor calls for heat.
An ORC heat to power module, such as the Power+ Generator, consumes hot water in order to generate clean energy.
By increasing hot water production, potentially with existing boilers, biogas flares can be 100% eliminated.
This not only reduces emissions but creates a baseload power supply, which is good for the environment and your bottom line.
Watch this video to see how biogas facilities utilize ORC power generation.
Download our presentation going over the beneficial uses of flared gas, natural gas, and biogas by clicking here.
Two Ways To Generate Clean Energy
Use Excess Gas To Fuel A Boiler, Heating Water For ORC Power Generation
By capturing flare gas, ElectraTherm's solutions signifcantly decrease greenhouse gas emissions while generating clean electricity.
This will not only offset power demand but can even result in complete flare elimination.
Convert waste heat from an engine into additional horsepower
By adding ORC power generation to your engine you can greatly increase efficiency while reducing energy costs.
By utilizing excess heat you reduce the parasitic cooling load – which can lead to the ORC system entirely replacing the engine's radiator – as well as reduce seasonal derate due to high ambient temperatures.
Emission Reductions:
Carbon monoxide decreased by 98%
Nitrogen oxide decreased by 48%
VOCs decreased by 93%
Successful Demonstration in the Bakken
Sponsored by the Department of Energy and in collaboration with distributer, Gulf Coast Green Energy, ElectraTherm commissioned a Power+ Generator at a North Dakota oil well to showcase the unit's ability to reduce flaring while generating clean energy.
Currently North Dakota, along with other states like Texas, have state regulations in place requiring oil and gas companies to significantly reduce the amount of gas flared over the next several years or face steep penalties.
Watch a video on how it works by clicking here.
The traditional process for biogas-fired CHP requires the installation of biogas cleanup and storage infrastructure alongside an engine genset, which can cost millions.
With our organic Rankine cycle CHP process all you need is the addition of a Power+ Generator or Active Cooler to your existing boiler or engine, greatly reducing costs and installation hassle.
While both processes generate power and reduce flaring, ElectraTherm's solutions have a much lower capital cost and leave a much smaller footprint. Baseload power production and reducing emissions have never been easier.
Biogas plants utilize large engines in order to provide power generation and heat for anaerobic digestion processes. These engines require large amounts of cooling and when their coolers age, they suffer from losses of efficiency and reliability.
While the Power+ Generator acts as a CHP generator – upcycling waste heat into usable thermal and electricity, the Active Cooler acts as a cooling to power generator – using the same cycle to provide zero power cooling along with generating clean electricity. It is the only cooler of it's kind in the world.
Unlike traditional radiators, the Active Cooler does not consume any power from the grid or negatively impact existing processes. With our integrated cooler, the previous radiator's cooling load is completely eliminated. This amounts to thousands of dollars annually in energy and fuel savings. Pair this with the additional power generated and your site's efficiency just got significantly increased.
The Active Cooler is not only a solution for today but a solution for the tomorrow. Even as times change and industries began to use more efficient renewable forms of energy, heat will still be produced and systems will still need cooling. High efficiency cooling is the future of energy efficiency.