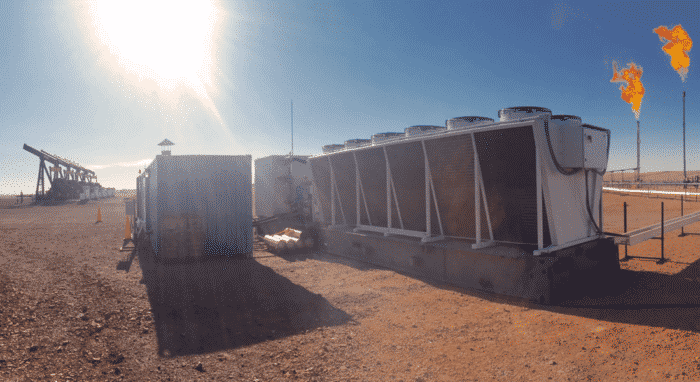 Application: Flare Elimination
Emission Reductions:
Carbon Monoxide by 98%
Nitrogen Oxide by 48%
VOCs by 93%
ElectraTherm, an industry-leader in low temperature heat recovery using Organic Rankine Cycle (ORC) systems, commissioned a Power+ Generator at a well site in the Bakken oil field. Funding for this project was provided by the Department of Energy's Research Partnership to Secure Energy for America (REPSEA) program and was completed in collaboration with HESS, Gulf Coast Green Energy, the Houston Advanced Research Center (HARC) Environmentally Friendly Drilling Program.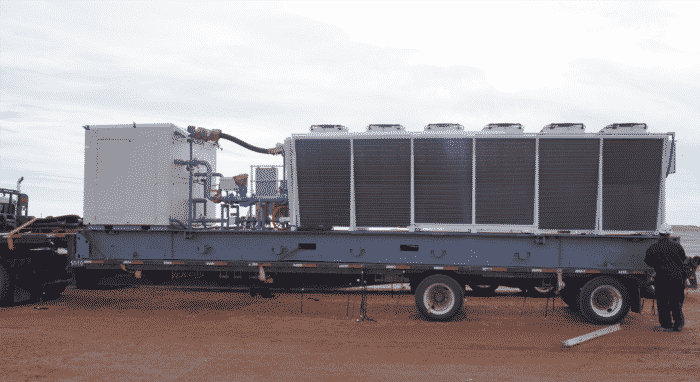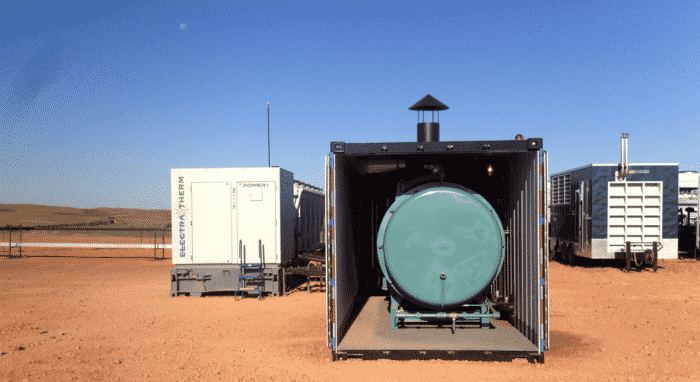 The process for ORC flare elimination is simple, straightforward, and cost-effective. Excess gas is used as fuel for a boiler which heats water for the ORC. This cycle converts the excess gas that would otherwise be flared into emission-free electricity which can be used onsite or sold for profit.. This project successfully demonstrates an effective means of flare reduction and changes the landscape for industries where routine flaring is common, such as at biogas and wastewater treatment plants. The Texas A&M Institute of Renewable Natural Resources (IRNR) conducted research and collected data from the HESS site for a research study comparing emissions with and without the Power+ Generator in place.
Hess Corporation's 2015 Report includes ElectraTherm's flare elimination demo as a case study. See it here.
In North Dakota and across the United States, both state regulators and the U.S. Environmental Protection Agency are beginning to require the amount of natural gas burned in flares be substantially reduced or face steep penalties and potential curtailment of oil production at offending wells. ElectraTherm's ORC system captures the excess heat and provides clean methane utilization without capital intensive gas clean-up, engine or micro turbine capital costs, and the heavy maintenance associated with large infrastructure.
"We're capturing a wasted fuel source that was being flared to the atmosphere, and putting that fuel to use in the oil fields. The emissions profile of the site is greatly improved, the power is consumed on site and the equipment is easy to install and maintain. Beyond oil and gas, ElectraTherm sees potential for other applications where flaring is a major concern, such as at landfills and waste water treatment plants."
– John Fox, Chief Executive Officer of ElectraTherm
To stay up to date with ElectraTherm and the latest waste heat news, subscribe to our newsletter here.
About ElectraTherm
ElectraTherm by BITZER Group provides world-class waste heat recovery solutions by utilizing the Organic Rankine Cycle along with proprietary technologies to convert low-temperature heat into clean power. ElectraTherm's simple and effective solutions generate clean electricity, boost efficiency, reduce energy costs, and decrease emissions – with no additional fuel consumption. Having shipped over 100 ORC units to over 13 countries clocking over 2,000,000 hours of operations, ElectraTherm is a global leader in small-scale waste heat recovery.
The combined advantage of ElectraTherm's engineering along with the value of being supported by BITZER, the world's largest independent manufacturer of refrigeration compressors which boasts close to 3,500 global employees and average annual sales approaching $1 billion, allows the ElectraTherm team to continue developing industry-leading ORC technology that is good for both business and the planet.
ElectraTherm's Power+ Generator is a heat to power solution, converting waste heat into clean electricity and usable thermal. The Active Cooler serves as a net-zero cooling to power solution, using the same ORC process to provide self-powered cooling while generating electricity. Both of ElectraTherm's solutions reduce emissions and energy costs while providing a baseload power / cooling supply. Taking advantage of waste heat is not only profitable, but practical. Allowing companies to benefit from a more circular economy while achieving sustainability goals.