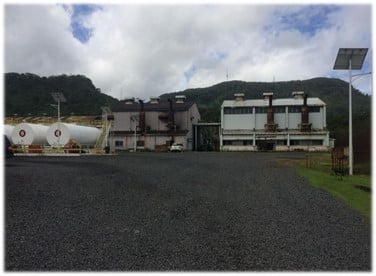 ElectraTherm, in association with integration partner B:Power, has been awarded a contract by Pohnpei Utilities Corporation (PUC) for the design, supply, installation and commissioning of an Organic Rankine Cycle (ORC) waste heat to power generation system at the Nanpohnmal Power Plant, Pohnpei Micronesia.
For this small island state, increasing energy efficiency is crucial for long term viability. When commissioned, the efficiency of the PUC's power generation assets will be one of the best in the Pacific – reducing CO2 emissions along with producing an additional 1,700,000 kWh, or 1,700 MWh, of clean energy annually.
The contract provides for the design and installation of a complete waste heat recovery and power generation system incorporating exhaust gas heat exchangers installed on existing diesel generators, three 6500B+ containerized heat to power ORC generators complete with high efficiency coolers along with a control system integrated with the Nanpohnmal Power Plant.
A key component of the contract is the requirement for the waste heat to power generation system to be both scalable and mobile allowing it to take advantage of the additional waste heat from new diesel generators to be installed as part of the Nanpohnmal Power Plant upgrade.
The 6500B+ ORC's to be installed are the latest generation units incorporating the BITZER Semi Hermetic Twin-Screw Expander. The combined advantage of ElectraTherm's engineering design along with the value of being backed by the BITZER Group allows us to proudly deliver world-class ORC solutions.
About Pohnpei Utilities Corporation
Pohnpei Utilities Corporation is dedicated to providing efficient, reliable, accessible, and cost-effective utility services in order to improve and sustain the quality of life in Pohnpei.
About B:Power, a. s.
B:Power  is a leading European based engineering company specializing in the full turnkey design and installation of ORC based power generation plants. The system design along with the installation and commissioning of this project will be undertaken by B:Power.
About ElectraTherm
ElectraTherm by BITZER Group, is a global leader in small scale waste heat recovery headquartered in Flowery Branch, Georgia. ElectraTherm's commercially proven Power+ Generator produces fuel-free, emission-free power from low temperature waste heat using the Organic Rankine Cycle (ORC). ElectraTherm's offerings are modular, robust and offer several advantages over turbine systems such as higher turndown ratios and transient operations.
For additional information please us at contact: